publishing power
Our editorial judgements - what authors we publish, the stories we feature, the comment we make - can have a big impact on both broad social issues and specific community organisations. That's why we employ the best authors, editors and journalists, and vigorously protect their editorial integrity and freedom.

Editorial integrity: Freedom of speech and editorial independence are fundamental principles of our publishing. Penguin has long championed these causes. Over the years, it has been the publisher (and defender in the courts) of controversial titles and the Financial Times has an equally strong reputation for incisive and objective news and analysis.
Corporate ethics and responsibility: While our newspapers have helped to shape the debate on corporate ethics and responsibility, our book publishers are creating the leading practical guides for business schools and companies.
Our higher education imprint Prentice Hall leads the publishing market in business ethics - a market which is growing rapidly as more college and MBA students choose business ethics courses as one of their electives towards a degree in business.

Everybody's Business: For the past ten years, the FT has been lending its publishing skills to campaigning organisations such as Business in the Community and The Prince of Wales Business Leaders Forum, bringing their publications to a much wider audience of business leaders and publishing indices of corporate responsibility and environmental management. Last year the FT teamed up with Dorling Kindersley to publish Everybody's Business, a handbook for companies who are trying to meet changing expectations from customers, employees, communities and investors.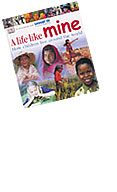 A life like mine: In 2002 Dorling Kindersley and the United Nations Childrens Fund (UNICEF) extended a long-term publishing partnership that gives a unique insight into the lives children lead around the world. Nearly 11 million children under five die each year, mostly from preventable diseases, and more than 100 million children aged 5-14 are in full-time or dangerous work. The UN's Convention on the Rights of the Child sets out what every child needs, from the basics of food, water and shelter, through education and health care and protection from wars, abuse and exploitation. To celebrate the anniversary of the UN Convention, DK and UNICEF published A life like mine, exploring the Rights of the Child through the eyes of twenty children from all corners of the world.